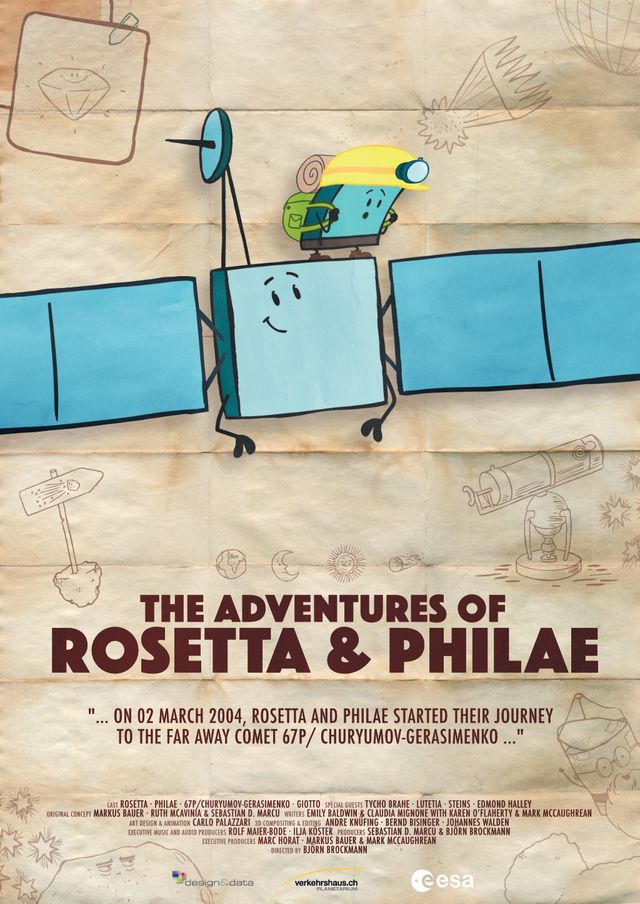 The Adventures of Rosetta & Philae
Design & Data GmbH
26 minutes
Audience:

School groups/Children

Category:

Family

Technology:

2D

Genre:

Documentary
Once upon a time there was a space probe called Rosetta, which was shot into the night sky. She was embarking on a long, long journey with the aim of unveiling the secrets of our solar system. On board was her constant companion, the lander Philae. The destination of their journey was comet 67P/Churyumov-Gerasimenko.
Join Rosetta and her lander Philae on a wonderful journey to the comet Chury. They travelled for more than ten years and experienced lots of exciting things along the way. Little Philae eventually managed to land on the comet and explore it more closely. Come along on the adventure and find out what secrets Philae and Rosetta were able to unveil.
On the long journey from Earth into space, you'll hear from Rosetta and Philae what it takes tecnically and scientifically to explore a comet up close. You'll also find out what fascinating insights have been gained from comets, these "dirty snowballs" that travel through space. The dome adaption of ESA's great cartoon about the Rosetta Mission will entertain and educate children and adults alike.